Clay Travis: Inept Titans Front Office Used Marcus Mariota as a Scapegoat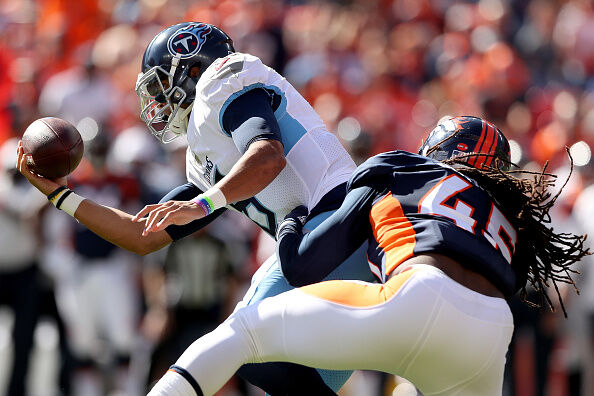 Clay Travis:

"This is a desperate ploy by the Titans to try and find somebody to blame as a scapegoat for a major issue with the way the general manager has decided to spend money. They spent over $100 million on their offensive line and their offensive line has allowed more sacks than any team in the NFL. It's easy to blame the quarterback but Dion Lewis [four years, $20 million] is wildly overpaid and underused, Taylor Lewan [five years, $80 million] is overrated and nothing but a big talker, Rodger Scaffold [four years, $44 million] can't block, and Adam Humphries [four years, $36 million] has not panned out."

(Full Audio at Bottom of Page)
Listen to Clay Travis discuss Tennessee Titans quarterback Marcus Mariota being benched in favor of former Dolphins lottery pick Ryan Tannehill, as a once dangerous Titans team has drooped to 2-4 and are on the precipice of having their season wash away.
Mariota has gone 29-32 since being drafted no. 2 overall in 2015, and although he earned a heroic playoff victory at Arrowhead Stadium two years ago, and at one time finished a season with 26 touchdowns and 9 interceptions, he's only averaging 212.6 passing yards per game in the pros, and has thrown just 76 touchdown passes in 62 games.
In 2019, Mariota has only thrown two interceptions in 159 attempts, but his QBR ranks second to last in the NFL, only ahead of comatose Josh Rosen.
Check out the audio below as Clay says the front office is trying to point the finger at Mariota, despite their incompetence handing out big contracts to players who have been awful this season.

Outkick the Coverage with Clay Travis
Want to know more about Outkick the Coverage with Clay Travis? Check out Premiere Networks!
Read more